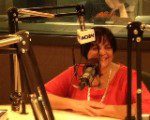 It's National Family Caregivers Month and the theme this year is Respite: Taking Care of Yourself. So Cathy Sikorski, the serial caregiver, stopped by Happy Hour to talk about her caregiving experiences. I mentioned that her brother-in-law, Larry, passed away recently. Here's Cathy's loving tribute to him: Larry and here is the post she talked about: The Balloon
We have several links for you caregivers:
Also, I wrote down two quotes for you today, and I forgot them. So here they are. This first one is from Nancy Kriseman, from her book, The Mindful Caregiver.
"My caregiver mantra is to remember:
the only control you have
is over the changes you choose to make."
That dovetails into something Joan Baez said,
"
You don't get to choose how you're going to die, or when.
You can only decide how you're going to live."