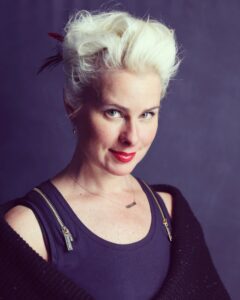 Architect turned entrepreneur Lori Cheek quit building buildings and started building relationships with a catchy idea for dating introductions. She thought the idea was so good, she took it to the Shark Tank, believe they would love it. They didn't.
That didn't stop this creative dynamo from going back to the drawing board and creating a mobile dating app that makes missed connection obsolete. And it's made Lori Cheek "one of the Top 10 CEOs to watch." Hear her fascinating story as she chats with Annmarie Kelly on this week's Friday Happy Hour.
You can learn more about Lori: Lori Cheek and you can download Lori's mobile dating app on the iTunes store here: Cheekd app
Today's quote is from Ada Louis Huxtable:

Summer is the time when one sheds one's tensions with one's clothes,
and the right kind of day is jeweled balm for the battered spirit.
A few of those days and
you can become drunk with the belief that all's right with the world."
Annmarie is "live" every Friday, from 3-4pm EST.
Call-in: 610-701-9243
You won't want to miss Happy Hour with Annmarie Kelly …and you don't have to!
In West Chester PA: turn your radio dial to 1520AM
Anywhere in the world: listen online from at www.WCHE1520.com (click the microphone that says "listen live" – uses Windows Media Player).
On your mobile devices at Tune-In Radio.Call-in: 610-701-9243
Not sure when Annmarie is on in your time zone? Find out here: Time Zone Converter
Miss a show? Catch up on the VICTORY CHICKS RADIO podcasts! Now on YouTube!