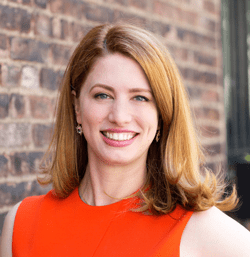 What's your brand? Whether you know if or not, and whether it's business or personal, you have a brand! Your brand is the way people see you and how they identify you. Are you in control of your brand? If you aren't, others are. How are they defining you – and is it what you want? Megan Driscoll is joining Annmarie Kelly to talk about you, your brand, and how to use it to shape your next chapter – or reshape your current brand.
EvolveMKD founder and CEO Megan Driscoll is a sought-after strategic media and communications professional with nearly 15 years of experience in healthcare, aesthetics and dermatology, and prestige beauty. In just 2.5 years, Evolve has grown to 18 employees with a near-perfect retention rate, over $3 million in revenue, and is currently serving 20 brands. Megan has also earned numerous industry accolades in the last year, including Agency Professional of the Year, PR Pro Under 40 by Bulldog Reporter, and Female Entrepreneur of the Year. Her agency was also named Company of the Year, Startup of the Year, and Women-Run Workplace of the Year by the Stevie's Business Awards, and was one of the Top Places to Work in PR by PR News. Megan's Website: www.evolvemkd.com  and Facebook: @EvolveMKD
Here's a link to one of Megan's interesting blog posts:Female Entrepreneurs
Here are some of those Newsies links:
Video of a Newsies dance number: YouTube
Newsboys Strike: Historical Reference
Upcoming shows: Theater Info
---
---
Annmarie is "live" every Friday, from 3-4pm EST.
You won't want to miss Happy Hour with Annmarie Kelly …and you don't have to!
You can tune in to the Friday Happy Hour:
Call-in#: 610-701-9243
Not sure when Annmarie is on in your time zone? Find out here: Time Zone Converter
Did you miss a show or an interview you really wanted to hear?
Do you want MORE Happy Hour?
No problem! You can listen anytime, anywhere:
VICTORY CHICKS RADIO podcasts! Now on YouTube!