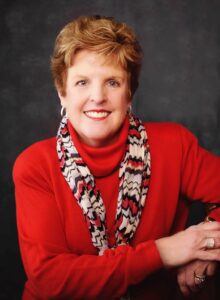 Are you thinking about downsizing in the new year? Now's a good time to  think about making the most of  Spring 2018 market. So Annmarie Kelly invited award-winning Keller Williams Realtor Maureen Ingelsby to give you the 411 for getting your house ready.
Maureen is an original Victorious Woman from Victorious Woman: Shaping Life's Challenges into Personal Victories. Her come-back-from-behind story is a favorite chapter with Victorious Woman readers. Maureen is also a popular realtor in Delaware and Chester Counties, a Philadelphia Magazine "Realtor You Can Trust" and, in 2015, was named Small Business Person of the Year by the Delaware County Chamber of Commerce.
Maureen holds a CSP designation (new home construction sales), an ABR (Accredited Buyer Representation), a CRS (Certified Residential Specialist), a GRI (Graduate REALTOR Institute), an SRES (Senior Real Estate Specialist) and a PMN (negotiation skills). An area resident for over 60 years, Maureen has  first-hand knowledge of the surrounding neighborhoods and ever-changing market. And she's an encyclopedia of information for people who are downsizing.
Maureen has lots of good articles on her website. Check them out: Maureen Ingelsby
Here's just one article for you: Eight steps to selling your home
If you're interested in knowing more about what Congress is doing about Congressional sexual misconduct, check out the Congressional Accountability Act and Hush Fund Elimination Act. And call your local congresspeople
Here's the wasteful Congressional spending list: Senator Posey

Annmarie is "live" every Friday, from 3-4pm EST.
Call-in: 610-701-9243
You won't want to miss Happy Hour with Annmarie Kelly …and you don't have to!
In West Chester PA: turn your radio dial to 1520AM
Anywhere in the world: listen online from at www.WCHE1520.com (click the microphone that says "listen live" – uses Windows Media Player).
On your mobile devices at Tune-In Radio.Call-in: 610-701-9243
Not sure when Annmarie is on in your time zone? Find out here: Time Zone Converter
Miss a show? Catch up on the VICTORY CHICKS RADIO podcasts! Now on YouTube!