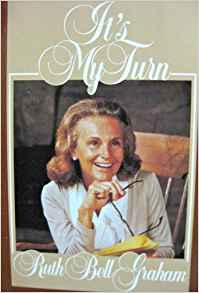 When Billy Graham died a couple weeks ago, the news was all about "America's Pastor" and his impact on the world. It was interesting, but Billy Graham wasn't one of my go-to people for religion or spiritual inspiration. To me, he was more of my parent's generation…though he touched the lives of many younger people. And his son, Franklin Graham, is doing wonderful medical and humanitarian work around the world with Samaritans Purse.
It wasn't Billy but his spouse, Ruth Bell Graham, who fascinated me. In one way, she was so typical of the women of her day. She married her college sweetheart at twenty-three and had five kids between 1945 -1958. She was the stay-at-home mom.
But that's sort of where the comparison to women of her generation stopped.
Unlike most American Children, Ruth Bell Graham's parents were Presbyterian missionaries. Ruth was born in China during a missionary trip. She went to high school in what is now North Korea. She was college-educated – something that only a few women did in the 1930's and 40's. And, supposedly, women who did go were sent to college to get their "mrs".
Ruth must have been a pretty feisty woman! In spite of her spouse being an internationally known Baptist evangelist, Ruth never changed her religion. In fact, while Billy was traveling the world, Ruth almost single-handedly raised her five children, wrote a couple books, and even taught Sunday school.
Ruth Bell Graham was one of the women who was – for me – an early role model of a Victorious Woman. She lived to be 87.
So, this morning and for the little bit of time I was watching the coverage of Billy Graham's funeral, her victories what I was thinking about.
Here are pictures from the life of Ruth Bell Graham