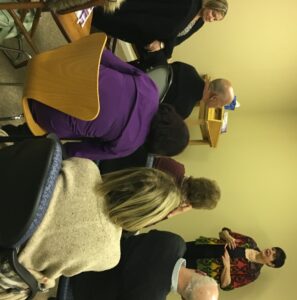 Yesterday was the big day! The Five-Year Marriage is officially published! It's not out to the public yet, but this week I invited some of my friends to my office to share the celebration.
I have to admit, I was a bit nervous. I've been talking about – and living – the Five-Year Marriage® for a long time. Some have loved the idea and others have hated it. But that was always on a small scale. And I always thought "who cares. This is my life and my marriage and it makes sense for me." But I knew from the beginning, once the book is launched, that can all change.
So, with that in mind, I started with a few "behind the scenes" stories. For example, most people don't know that I wrote the first draft of Five-Year Marriage® (then titled "Reinventing Marriage") twenty-five years ago – at the start of my second marriage. I spent hours and hours writing, editing and prepping a book proposal that I sent to many, many publishers.
However, after about a year of watching the rejection letters pile up, I boxed-up the manuscript and all the research. That's how it stayed until 2009, when I gave it to Professor Lisa Jobs as a project for her masters degree program in publishing at Rosemont College.  Those students did excellent work with focus groups and marketing plans.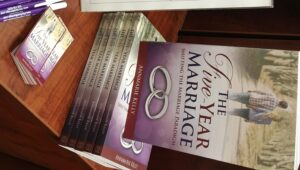 Still, I didn't focus on updating and finishing the book – even though, for several years, I kept getting "nudges" from the universe that it was time. I didn't exactly ignore those ignored that prodding from above, but I did take any serious action.
It wasn't until the summer of 2016 when someone said something to me that flipped the switch in my head. That year I took the original manuscript with me on vacation. My plan was to read what I'd written in 1993-5 to see if it was any good.
It was! Not that it was a big surprise to me – I knew I'd worked hard on it then. That's why so much of the writing was as on-target now as it was then.
Still, I could tell it needed freshening up. After all, the generation of couples who would read and benefit from this book would be different from the mid-90's couple. For one thing, we barely had home computers then, car phones hadn't even mainstream then. Cell phones were still somewhere on the horizon. And a social network was the group you played cards with or the friends you met for a Friday happy hour. Those to things dramatically changed the dynamics of every relationship we have – for better and for worse.
Something else was clear to me then. By 2016, I had years more "marriage experience" that I could share with new and newer couples. I knew things that I couldn't have even understood as I started my second marriage.
I took stock. When I assessed what had to change and what could stay, I got serious about rewriting and updating that old manuscript.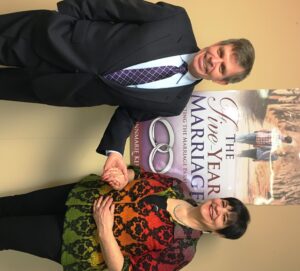 While some of my "launch guests" knew that story, it surprised others who only knew me as the author of Victorious Woman and the founder of the Victorious Woman Project.
Once I told that story, I read some passages from The Five-Year Marriage® . I included parts about why traditional marriage is old-school. Also, how the 48% divorce rate has remained steady (mostly because so many couples are choosing to live together instead of making the "til death" commitment). I also shared part of the chapter called "The Five-Year Marriage® Partner" which explains how to figure out who makes a good Five-Year Marriage® partner.
At Saturday's party, I was glad to see so many friends in the audience. More importantly, it was an interesting mix of people: singles, long-time and short-time marrieds, two widows and a couple divorced and remarried couples. Afterward, as guests ate great food and drank some very good wine, they chatted with me and each other. Everyone has a story about the challenges of traditional marriages – either their own, or friends, or even their own kids.
Of course, I sold and signed books. My guests had interesting comments about the five-year concept. One man, a long-time married psychologist, told me that he thought the idea of a five-year commitment wasn't serious. However, after listening to what I had to say, and hearing Joseph's reasoning, "it's not just the two of us…it's me, Annmarie and the marriage" he is now a believer.
With that kind of a send-off, I am even more confident about and excited to share The Five-Year Marriage® : Shifting the Marriage Paradigm with the world! Thank you to everyone who joined me as I launched the Five-Year Marriage® into the world.
UPDATE 10/1/18: OK, the book is now available on Amazon: The Five-Year Marriage® : Shifting the Marriage Paradigm
#FiveYearMarriage, #MarriageTips. #LoveAndMarriage, #PartnershipMarriage, #ModernMarriage #WomensEmpowerment, #MarriageContract, #RelationshipAdvice, #AnnmarieKelly, #ContractMarriage