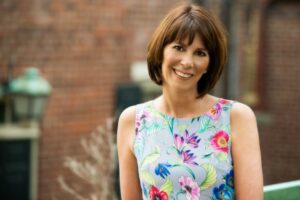 Do you need a manners tune-up? Are you wondering what's still important (like thank-you notes) and what you can let go? And, in this era of social media, what do you tell your kids to is good manners? In this season of
weddings, graduations, and parties, manners and etiquette expert Jacquelyn Youst is joining Annmarie Kelly to give her the 411 for showing off your best self, in business and socially.
Jacquelyn Youst is a modern manners & image expert, and owner of the Pennsylvania Academy of Protocol. Jacquelyn provides image consulting and a fresh, fun, modern twist on teaching social etiquette. You can find Jacquelyn at https://www.jacquelynyoust.com/
Two good articles from Jacquelyn: Social Media and old fashioned good ideas
Interested in that feasibility study? Check it out: West Chester Railroad
Want to join me for the Victorious Woman Celebration this year? Love to have you! Get tickets now: The Girlfriend Gala
Miss the Show? Catch up with the Podcast! Now Available on Youtube
Annmarie is "live" every Friday, from 3-4pm EST.
Call-in: 610-701-9243
You won't want to miss Happy Hour with Annmarie Kelly …and you don't have to!
In West Chester PA: turn your radio dial to 1520AM
Anywhere in the world: listen online from at www.WCHE1520.com (click the microphone that says "listen live" – uses Windows Media Player).
On your mobile devices at Tune-In Radio
And you can call-in: 610-701-9243
Not sure when Annmarie is on in your time zone? Find out here: Time Zone Converter
Happy Hour Radio is now available as a podcast on youtube! Catch up on past episodes & don't forget to subscribe! Victory Chicks Radio Podcast.