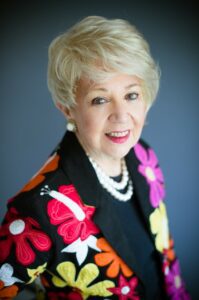 Are you a Spunky Old Broad? If you aren't, this show may turn you around. At this week's Friday Happy Hour, we're talking reinvention with a twist with the original Spunky Old Broad, Gayle Carson. Tune in and find out what you're missing!
Dr. Gayle Carson is affectionately known as Dr. Gayle, S.O.B. Spunky Old Broad. She believes in being the best YOU, you can be. Having worked in 50 countries and 49 states, she now hosts 16 radio shows a month and appears on TV at least twice a month. An author, coach, speaker and media personality, Gayle believes women are like fine wine–they get better with age. Learn more:  spunkyoldbroad.com and FB: spunkyoldbroad1 or gaylencarson
Watch Gayle's free media tips video
Want to join me, Jenn Frederick, Theresa Hummel Krallinger and The Girlfreinds at the Girlfriend Gala this year? We'd love to have you! Discount ends on May 22: Register Here
#Women'sEmpowerment, #FridayHappyHour, #MidlifeReinventions, #NextChapter
Podcast Now Available!
Annmarie is "live" every Friday, from 3-4pm EST.
Call-in: 610-701-9243
You won't want to miss Happy Hour with Annmarie Kelly …and you don't have to!
In West Chester PA: turn your radio dial to 1520AM
Anywhere in the world: listen online from at www.WCHE1520.com (click the microphone that says "listen live" – uses Windows Media Player).
On your mobile devices at Tune-In Radio
And you can call-in: 610-701-9243
Not sure when Annmarie is on in your time zone? Find out here: Time Zone Converter
Happy Hour Radio is now available as a podcast on youtube! Catch up on past episodes & don't forget to subscribe! Victory Chicks Radio Podcast.