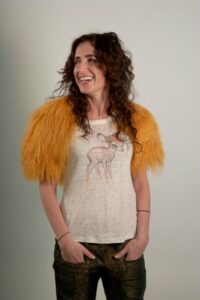 In the midst of the tiny house phenomena, Suzi Siegel became fascinated with what was going on in her own town of Queens NY. She discovered a plethora of tiny things – including NYPD's smallest bomb-sniffing police dog, the shortest first name and an itsy-bitsy topless bar. More importantly, Suzi discovered a whole new way to see the world. Suzi Siegel is joining Annmarie Kelly at the Friday Happy Hour to talk about what she learned from Tiny New York, i). There are plenty of books about New York City. But there has never been a book about the smallest things in the biggest city. Get her book on Amazon.
Suzi Siegel is a former investigative report and travel writer. And, for part of her career, worked with the Philadelphia police force.
Listen to "Discover a new perspective with Tiny New York author Suzie Siegel" on Spreaker.
---
---
Annmarie is "live" every Friday, from 3-4pm EST.

Call-in: 610-701-9243
You won't want to miss Happy Hour with Annmarie Kelly …and you don't have to!
In West Chester PA: turn your radio dial to 1520AM
Anywhere in the world: listen online from at www.WCHE1520.com (click the microphone that says "listen live" – uses Windows Media Player).
On your mobile devices at Tune-In Radio
And you can call-in: 610-701-9243
Not sure when Annmarie is on in your time zone? Find out here: Time Zone Converter
Happy Hour Radio is now available as a podcast on youtube! Catch up on past episodes & don't forget to subscribe! Victory Chicks Radio Podcast.
#AnnmarieKelly, #VictoryChicksRadio, #FridayHappyHour, #VictoriousWoman