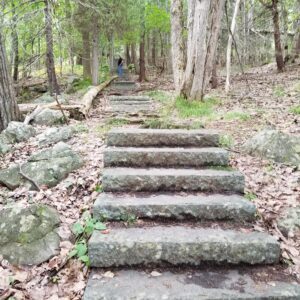 We're starting to think about home – both sad to see our vacation ending and glad to be back in our own beds. 
After yesterday's long hike, we opted for a much shorter and easier trek to Compass Point. It's the site where George Doerr's family had a "cottage" in late 1800. The place was razed in the 1950's but the long set of steps to the harbor and some of the foundation still remain.
We went to Café This Way for breakfast. I had Green Eggs and Sam – an omelet with spinach, artichokes, calamite olives and feta. Sometimes you get an omelet like that and you can barely see the goodies and it's only sprinkled with cheese. Not this one! I could taste every one of the ingredients and the cheese was chunky. So good!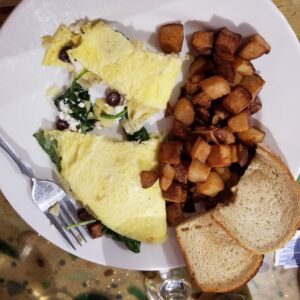 We walked around Bar Harbor, but it was packed with vacationers and cruise people, so we didn't stay long. We went back to the cottage, watched the last of Big Little Lies, ate sloppy joe casserole for dinner and just relaxed. Good day and night!