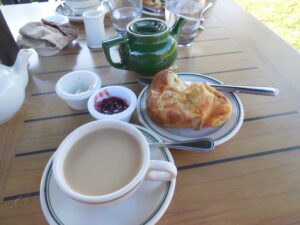 Joseph and I thought about a "last hike" in the early morning but opted for Common Good, the soup kitchen in Southwest Harbor. The soup kitchen takes care of Mainers who need food, especially during the winter months. I see the same volunteers each year, and some new faces. They are dedicated, and the community is equally dedicated in its support.  
We had a couple of popovers and I had a little oatmeal. There was an old guy playing guitar when we sat down and I think he thought he was doing practice in his living room. I don't know if it could have been worse. OK, maybe if he was louder. But then he left and another guy started and he wasn't very loud either, but at least he was playing actual tunes. 
Back at the cottages, we stopped in to talk to Ollie and made our reservation for next year. Then it was back to the cottage to shower and pack. We left the cottage around noon. We picked up a Grandpa Jack sandwich Mother's Kitchen and drove to nearby Thompson's Island to eat it – dragging out our 2019 MDI departure just a little longer.  
Then it was onto Bangor and I95. The weather was beautiful and the trip was easy. Joseph drove to Bangor and I picked it up from there.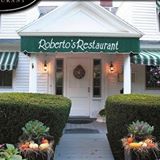 We stopped over in Portland to get a few donuts from The Holy Donut (I wasn't kidding – I'm obsessed with them). Then it was onto Ogunquit to meet Robert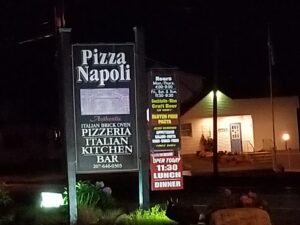 for dinner at Roberto's. It was so funny when we got there before Robert and sat at the reserved table (which we were told was Robert's go-to table – yes, he's a regular, even though he owns Pizza Napoli down the road – and it's very good. Suddenly, thinking we were wrongly taking the reserved table, everyone from the owner to the server was on top of us. They kept asking "are you with Robert and Michael?" Yes, we assured them. However, until Robert got there, I don't think they trusted us. It was funny. So when Robert finally got there, everyone – from owner to server – teased up about trying to steal Robert's reservation. 
Michael couldn't join us for a medical reason and that was a little disappointing but…what can you do. I liked talking with Robert about everything from vacation in Maine to politics.   
We finished dinner and headed to our overnight at the Fairfield Inn in Amesbury MA. Goodbye Maine – see you in 2020… 🙁