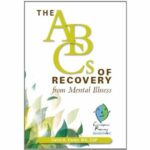 Carol Kivler's newest book, the ABCs of Recovery from Mental Illness is one that you don't want to miss. First of all, it's small – only approximately 5×3 inches and barely a half-inch thick – so you can carry in your purse. And it's short – you could read the entire book on your morning train ride into the city (and, BTW, if you did that you'd feel uplifted all day!). Most importantly, it's packed with tips and insights that will help you get through the day, the hour or the moment. Open it to any page, any morning, and get your centering thought for the day. This is a book you'll want to buy for yourself and others, because there's a lot people dealing with mental illness, either their own or with a loved one or co-worker.
And in case you think Carol Kivler pulled her ABC tips out of a hat, you need to read her story. In 2009, Carol was a Victorious Woman Honoree. Her battle with depression and her use of the very controversial ECT treatment was most courageous. Here's her story: Carol Kivler
If you purchase the ABCs of Recovery today, Carol is donating a portion of sales to the National Alliance on Mental Illness (NAMI).