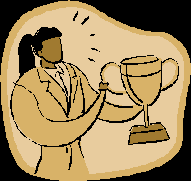 If you have that "beating my head against the wall" feeling I talked about in this month's first blog (/victorious-woman/2012/06/01/women-leaders-persistence/), then you need to do something different. And if you agree with Seth Godin's definition of persistence, you need to think something different.
Here are two things that are absolute facts:
If you give up, you lose
You cannot give up and win
So here's a question: Do you want to win?
Of course the obvious answer is "yes" because we think that's a given. But it isn't. And neither is losing. Winning takes more than just lip service and losing is a conscious decision.
So consider where you are professionally and personally. And here's what you need to think about:
What is my goal?

I talk to many women who don't have a clear answer for this one. It's like being on the first day of vacation but you have no place to go – and you just stay where you are and be miserable.

What have I been doing to reach my goal that hasn't been working?

This is a tough question to ask yourself and sometimes it helps to get feedback from others. If you ask someone for feedback, pick only those who will be objective, honest and whom you trust to have your interests at heart.

What can I do differently?

Develop a strategic plan and get some help creating it. It doesn't have to be tedious. If you asked some folks for feedback for what hasn't been working, maybe they have a suggestion for you. There are books, coaches, mentors and sponsors who are also good resources.

Finally, and this is important, ask youself THE QUESTION: Do I want to win?

If your goal is a promotion, more work/family balance, a new job or a successful business, are you willing to be persistent and engaged enough to get there? This question – and your answer – is about passion. If you just want to fill in time until your next stage (e.g., you're waiting to get pregnant, retired, laid off, move), I'm guessing you don't really want the win, you want the activity or you want to feel good. If that's the case, it isn't likely that you will be fired up enough to keep going when the going gets tough. Check how much you really want to win. If it isn't a burning desire, you might want to rethink your goal.
What are some ways you let yourself know that you want to win?