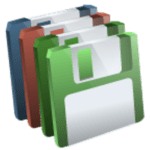 My home office and the kitchen are the two places I consider "the Motherload" of stored useless items. The kitchen has lots of glasses that are years old (not good stuff, just odds and ends). In addition, when my mom moved out of her home of fifty-three years, I took some of her glasses – also odds and ends that she never threw out but that brought back memories of happy days in my childhood.
I'm not ready to start on the kitchen because I'm thinking about getting new cabinets. Cleaning those cabinets out will come soon enough, so I'm letting them go until fall.
On the other hand, next month I'm starting a blog tour for the launch of the Victorious Woman e-book. One of the bloggers asked about my writing space. When I checked out her blog, I noticed that other authors sent pictures of their offices and/or desks. I decided to do the same for two reasons: I really liked the idea and it gave me a push to start purging things in my office, starting with my desk.
As I pulled items out of cubby holes and off shelves, I laughed at what I kept – junky things, like pens that no longer worked and old phone message books; I tossed them. And I found some angel letters I wrote a while back…and I kept them. I also found a few tubes of lip balm and hand cream that were old and unusable. Why? Do you do that too? Do you ever buy something to keep on your desk, like hand cream, use it for a while and then let it grow stale while it clutters things up?
Today I vowed not to buy another beauty product until I finish whatever I have.
As I made my way through files and cabinets, I found about fifty floppy disks. Remember them? Some of the ones I found were empty, the leftovers of large, buy-in-bulk packs. But most of the floppys are filled with backups of old SkillBuilder Systems files and the initial drafts of Victorious Woman. I'm curious about what's on them – and how much of what I wrote then can be re-purposed into a blog post or article. I want those old files, but I don't know how to get them from floppy to CD.
Anyone have any ideas?
By the way, my blog tour starts on September 3. How about joining me? Here's the schedule: https://victoriouswomanblogtour.blogspot.com/ Hope to see you there!