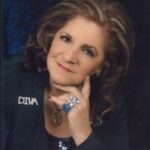 Today's happy hour was jumping, thanks to my guest, the amazing Robbie Motter.
I started the show with some thoughts about midlife. Specifically, I questioned the determination by a UK agency that midlife begins at 47. That age sounded young to me…but you'll have to hear my explanation of why when the podcast goes online. Here's the UK article: Age in MidLife
In addition to questioning that age, I also questioned the span of midlife? If you are midlife at 47, does it last for 30 or 35 years? I asked Robbie Motter when she came on and she said she thinks it does…and maybe is even a little longer, because she's 78 and is still in mid-life!
What do you think?
Also, when talking a little bit about goals and New Year's Resolutions, I invited my listeners to go to the Victorious Woman Project's CONNECT page and take the survey I designed to help you sort out your 2014 goals so you can achieve them. You can go in now and take that survey. If you include your email (kept private), and I'll send you a compilation of everyone's responses (with no names or emails).
The show really got exciting when Robbie Motter joined us. She has been a friend of mine and a mentor for a long time. It was almost five years ago when I honored Robbie as a Victorious Woman Honoree. Here's her interview: RobbieMotter
Robbie talked about her famous motto: It's all about showing up. She explained what that means and gave listeners suggestions for how women can show up. She also had ideas for how to find your passion, set yourself apart from the competition and get noticed. Robbie, who has hobnobbed with celebrities by being a seat filler at events like the Golden Globe and the Academy Awards, gave a couple interesting websites to check out (an interesting way to hobnob with the stars): https://www.seatfillersandmore.com, https://1iota.com and https://www.fillaseat.com/. To learn more about Robbie, go to her website: www.robbiemotter.com.
Before she left, Robbie Motter offered Happy Hour listeners a complimentary 15-minute coaching session with her. If you're interested, you can call her at 951-255-9200 and tell her you were at the Friday Happy Hour.
I wrapped up the show with this week's quote is from Emerson: Write it on your heart that every day is the best day in the year