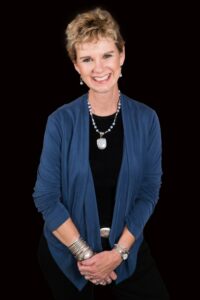 Ready to downshift and get that job you love now?
Kerry has so much information to share and I'm glad she shared so much of it with us today! To read Kerry's blog and find out how to get a copy Getting the Job You Want After 50 for Dummies, go to KerryHannon.com. And the books are also available on Amazon.
Kerry Hannon is a nationally recognized expert on career transitions, personal finance and retirement. She has spent more than two decades covering all aspects of careers, business and personal finance as a columnist, editor, and writer for the nation's leading media companies, including The New York Times, Forbes, Money, U.S. News & World Report, and USA Today. Kerry's work has also regularly appeared in BusinessWeek, Kiplinger's Personal Finance, The Wall Street Journal, and Reader's Digest, among other national publications. She has appeared as a financial expert on ABC News, CBS, CNBC, NBC Nightly News, NPR, and PBS.
Also at Happy Hour today I talked about a report about the landmark case that resulted from the sale of Ben and Jerry's ice cream to Unilever. It was a big deal and big enough for this report from the Standford Social Innovation Review
Victorious Woman Month starts on Sunday – and I'm excited!!! Here are the three ways you can connect with your victory and with other victorious woman this month:
CONNECT WITH YOUR VICTORIES DURING
INTERNATIONAL VICTORIOUS WOMAN MONTH
The 21-Day Victory Challenge
The 9th Annual Victorious Woman Contest

Got a story to tell – here's the place to do it…and win a prize!

The10th Anniversary Victorious Woman celebration
Here's that quote from Sophia Loren:
"There is a fountain of youth:
it is your mind, your talents,
the creativity you bring to your life
and the lives of people you love.
When you learn to tap this source,
you will truly have defeated age."
Done you love that, Victory Chicks? Check in with your mind, talents and creativity this weekend! And join me for the Victory Challenge on FB starting  on Sunday, May1.

Tune into Friday Happy Hour at 3pm on AM radio 1520. You can also listen online at www.WCHE1520.com.
Call-in: 610-701-9243