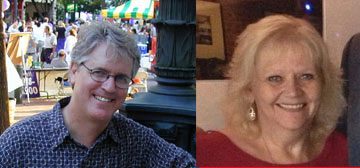 Just in time for Halloween – It was a Spooky Happy Hour and Annmarie was talking ghosts – historical and present day.
This Friday's Happy Hour started with
Malcolm Johnstone talking about West Chester's rich history of Revolutionary War ghosts and more. Malcolm joined the West Chester Business Improvement District (BID) as executive director in June 2001. His new hobby is historical West Chester, and he shared how he came to doing that in a very spooky way. Malcolm sent me a couple pictures and I thought this one was the spookiest. That's Malcolm in front, but in the background…who and what was she?
Then paranormal researcher Carol Star joined Annmarie to talk about some of the ghostly sightings she and her paranormal crew at the Chester County Institute of Paranormal Research have been finding in Chester County.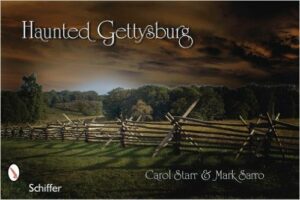 How she does what she does is fascinating. What she finds when she does it is just plain scary!
What she learned and shared in book, Haunted Gettysburg, is really something!
Carol is the co-founder of the Chester County Institute for Paranormal Research (CCIPR). You might have seen Carol on the Travel Channel show, Ghost Adventures with Zak Bagans. If you have an interest in Carol's work, check her out.

Other Halloween-y stuff I talked about:
My two trips to Scranton PA where I participated in the Thriller Flash Mob

The scary picture Joseph and I took before dancing in Thrill the World

We used this on our annual calendar, one of which Joseph has in his office. It so freaked out one client that she had to walk to the other desk to pay for her massage!
When black cats prowl and pumpkins gleam,
may luck be yours this Halloween.
And that's my all-the-time wish for you…luck…and also a full and happy heart!

Tune into the Friday Happy Hour at 3pm on West Chester PA local AM radio 1520, online at WCHE-AM  and on your mobile devices at Tune-In Radio.
Call-in: 610-701-9243