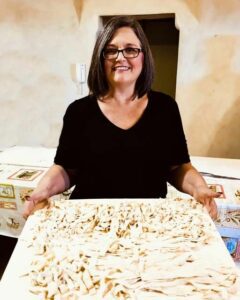 How many people do you think say, "I wish I could give it all up – or retire – and live in Tuscany – or Paris – some other exotic place? Linda Meyers, and her spouse, George, said it too. And then they DID IT! Linda and George are fifty-somethings from the Washington DC area who got tired of the rat race and wanted an adventure. What they got was an interesting combination of Eat-Pray-Love and Under the Tuscan Sun.
Linda is coming to the Friday Happy Hour to talk about how they did it and how they expanded it.
Join us this Friday for an interesting career reinvention!
Learn more about Linda Meyers at www.cookeatplaytravel.com
Facebook @cookeatplaytravel or
Instagram: https://www.instagram.com/cookeatplaytravel/
From my monologue:
If you can join me at the Marple Library in Broomall, tomorrow (Saturday) at 1:30, I'd love to see you. Here's all the info:
Miss the Show? Catch up Now!
Annmarie is "live" every Friday, from 3-4pm EST.
Call-in: 610-701-9243
You won't want to miss Happy Hour with Annmarie Kelly …and you don't have to!
In West Chester PA: turn your radio dial to 1520AM
Anywhere in the world: listen online from at www.WCHE1520.com (click the microphone that says "listen live" – uses Windows Media Player).
On your mobile devices at Tune-In Radio.Call-in: 610-701-9243
Not sure when Annmarie is on in your time zone? Find out here: Time Zone Converter
Miss a show? Catch up on the VICTORY CHICKS RADIO podcasts! Now on YouTube!