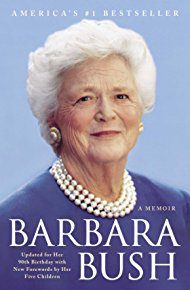 This week I thought a lot about Barbara Bush. First of all, who would have thought Barbara would go before George? Did you, like me, figure – with her indomitable spirit – Mrs. Bush would outlast George by years?
Living Life on Her Own Terms
But that wasn't in the cards. Reports from the family said that Barbara, with humor and courage, fought for as long as it made sense to fight. Then, with her signature practicality, she decided it was time to go. It was her life and she chose how it would end.
That's among the things I liked most about the Barbara Bush I saw on my television screen. She lived life on her terms.
The Election & My Relationship – both Hot & Heavy
I first noticed Barbara Bush in 1988. Joseph and I got married for the first time that September, during a presidential election that was going hot and heavy. Of course, as newlyweds, so were Joseph and me.
So I wasn't paying a lot of attention to the election that year. And I wasn't overly interested in politics anyway.
We became the Guinea Pigs for my New Concept of Marriage
Here's the thing: Even though in 1988, Joseph and I had already decided to get married on the five-year plan, we really didn't know what that meant for us. And, though I was smart enough to create the Five-Year Marriage®, I was still in the process of figuring it out. Specifically, I was trying to understand what being a spouse actually meant (I think that's the kind of thing us Victory Chicks think about – I actually don't think the guys do, unless there's a problem).
From Happy & In love to WIFE
Anyway, it was important to me because I saw how quickly most of my girlfriends went from being the happy and in-love young girl to being a wife – in the "four-letter" sense of the word. I watched those girls give up, in a relatively short period of time, their SELF – their personal power – to the relationship.
So I saw something very interesting when Barbara Bush became First Lady…and I was paying attention. I watched…and learned.
Don't Give Up Your Sense of SELF
One of the first things I saw was that, even though she was from a generation that was old-school traditional, Mrs. Bush didn't give up her SELF. It fascinated me. She seemed so strong in her values and her sense of self-worth. Nobody was going to be taking anything away from her soul-spirit – and she wasn't giving it up either!!
I wanted what Barbara Bush had.
Make your Relationship a Partnership
The second thing I noticed was the obvious partnership between Barbara and George Bush. They didn't just seem to love each other, they seemed to really LIKE each other. They acted as though they knew they had a purpose together. It was them and the world. And, while the "power" might have shifted between them from time to time, they didn't treat each other like one of them had more power than the other.
Developing Trust
Another thing that seemed clear to me was that those two people trusted each other. No matter what happened for President and Mrs. Bush, and no matter who else was in their circle of life, everything emanated from the intimate cornerstone that was Barbara and George.
Keep it Fun
The last thing I noticed was that they seemed to have fun together. After seventy-plus years of marriage, they still laughed together like they were kids – that's a lot of positive something to say about a couple! They were even having fun at the 2017 Super Bowl when they took the field so President Bush could do the ceremonial coin toss.
Building a Relationship on Partnership
If partnership was the foundation on which their relationship was built, that's what I wanted too. And that's what I work toward, even now, in my sixth marriage to Joseph.
For me, along with a couple other strong and interesting women, Barbara Bush was a good role model. She had a huge impact on my life and each one of my Five-Year marriages®.
This week I went to a business meeting in Bryn Mawr, Pennsylvania, not too far from my office. For the first time in years, I wore pearls – fakes (but good fakes!) – the kind I think Mrs. Bush would have approved. It was my very small homage to the passing of a great lady.
And, today I say, THANK YOU Mrs. Bush.
#BarbaraBush, #PartnershipMarriage, #MarriagePartnership, #Five-YearMarriage, #VictoriousWoman