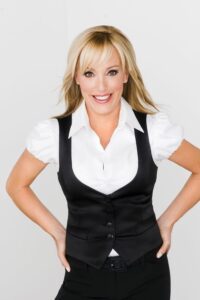 The Girlfriend Gala committee is happy to announce that Local Fox29 Philly reporter Jenn Frederick will be the featured speaker at the 2018 Girlfriend Gala. 
Jenn is the fun reporter who gets into all kinds of things on Good Day Philadelphia. And, on June 6, she's going to be having some fun with The Girlfriends at this year's Victorious Woman Celebration, The Girlfriend Gala, along with our comedy Victory Chick, Theresa Hummel Krallinger.
Got your tickets yet? We're in early discount mode, so get them while you can: 2018GG tickets
Jennaphr Frederick joined FOX 29 in October 1999 as a general assignment reporter for the FOX 29 "News at Ten."  Since September 2003, she's been getting up early with the "Good Day Philadelphia" morning team, as she covers breaking news and feature stories around the area.
Before joining the FOX 29 family, she worked for two years as an investigative reporter for WKBW-TV, the ABC affiliate in Buffalo, NY.  A diverse background has helped Jennaphr to develop a proficiency in newsgathering.  Before working at WKBW-TV, she was part of the morning team for WTVR-TV in Richmond, VA, a CBS affiliate.  She speaks Spanish fluently and takes pride in having worked as an anchor and investigative reporter for KGNS-TV in Laredo, TX, a NBC affiliate and bilingual station.  It was there that she started her career and frequently reported stories in Spanish.
Jennaphr is a Florida native and a graduate of the State University of New York, Buffalo with a degree in Broadcast Journalism.  She lives in Montgomery County, PA, with her husband, Steve, and their two children. During her free time she enjoys snowboarding, golfing, and traveling.
We're looking forward to another fun night with The Girlfriends – including Jenn Frederick!!
#VictoriousWoman, #GirlfriendGala