So many people who have read The Five-Year Marriage®: Shifting the Marriage Paradigm have said, "You included EVERYTHING a couple needs for their marriage contract!" And I thought they were correct. Until yesterday.
I was reading the Sunday comics in The Philadelphia Inquirer – my Sunday indulgence. I came across this FoxTrot cartoon by Bill Amend. That's when I realized, well…clearly I missed one.
I thought you'd get a kick out of it. Enjoy!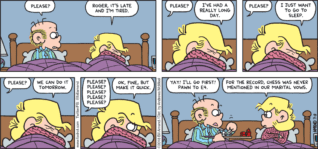 Like that one? Here's a link to some of his other funny cartoons: Bill Amend
#FiveYearMarriage, #LoveAndMarriage, #PartnershipMarriage, #MarriageContract, #RelationshipAdvice, #AnnmarieKelly, #ContractMarriage