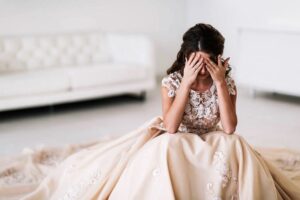 Casey thought her wedding day would be the happiest day of her life. So, on the night before she was to marry long-time love, Alex, she was totally unprepared for the shock of her life.
While celebrating with her bridal party, Casey started getting some texts. At first she thought they were hot and sexy somethings from Alex. It didn't take her long to figure out that they weren't.
Intercepting Sexy Texts Between Her Fiance and Another Woman
To Casey's amazement, the texts were from Alex to another woman.  They contained pictures and oh-so-hot messages, which she recently posted on her social media, including these:"This weekend. You and I. It is on, hot stuff. Bring your A game." and "Your body is f-ing incredible. And…you know how to use it. I wish my GF had half the skills you do."
Devastated & Confused
Casey was confused and devastated. Her outraged girlfriends insisted she call Alex immediately and dump his sorry butt. However, to their surprise, she didn't.
Casey couldn't wrap her head around what was happening to her now happiest-day–turned-nightmare.  She didn't know what to do…until the next day…
Public Humiliation
As planned, Casey got ready for her wedding. However, when she walked up the aisle, her phone was hidden beneath her bouquet. She got to the front of the church, turned around, and did something that stupefied Alex and astonished her guests. Instead of reading her vows, and with tears streaming down her face, Casey read Alex's text messages aloud – all of them.
Follow Your Heart
When Alex tried to grab her hand, the scorned Casey didn't give him any opportunity for redemption. Shocked, embarrassed and angry, he stormed out of the church. Casey then told her guests that they wouldn't be going to a wedding reception that day, but to join her for "a celebration of honesty, finding true love and following your heart even when it hurts."
Could you have done that? Would you?
Cancelling a Wedding is Hard
Casey's story isn't as uncommon as you might like to believe. Many brides-to-be have more than second thoughts or wedding day jitters. They have premonitions, misgivings, and "feelings" – that are most often ignored because once the train is on that wedding day track, it's hard to stop. The money is spent, the invitations are out, and…what will people think?
Being Vulnerable and Easily Fooled Into a Doomed Relationship
Also, you want to be in love and have the "happily ever after." That makes you vulnerable and easily duped into having a fake or doomed relationship…without even knowing it. That's why the old saying "love is blind and marriage opens the eyes" still sticks; it's an all-too-common reality.
Love is blind and marriage opens the eyes
Was love so blind for Casey? Was this the first time Alex cheated on her? Or, had it happened before, Alex asked for forgiveness and swore it would never happen, and Casey let it slide?
Or, maybe it's something deeper. Maybe Casey, like most prospective brides (and grooms too) don't want to believe s/he could have been so fooled or made such a big mistake. Nobody wants to be wrong. And many people would prefer to take a risk on suffering the consequences down the road than be publicly embarrassed.
Not for Casey.
She chose short-term embarrassment over long-term pain.
What about you? Is there any way you can stack the deck a bit to avoid the same thing?
There's no Guarantees in Relationships
Frankly, there are no guarantees in relationships. "Stuff" happening is always possible. However, the Five-Year Marriage® gives you some solid leverage for shifting the marriage paradigm in your favor.
How the Five-Year Marriage® Is the Ultimate Relationship Guide
Here are three ways that happens:
Someone who has the intention of deceiving is looking for a safe space to do it. The traditional "til death do you part" marriage provides cover for their despicable acts. The Five-Year Marriage® is not so protective. It has more accountability built into its design. So it's harder to hide deceptive or bad behaviors, even as early as dating and courtship.
The process of creating the Five-Year Marriage® partnership is more open and transparent. It challenges "feelings" of love and instead calls for fact-based communication and an honesty that puts that love into action…before the wedding.
You use Family Meetings to hold both partners to their agreements on a regular basis. If one partner isn't living up to those agreements before the marriage, you aren't stuck for ten-fifteen-fifty years or until the relationship sucks all the joy out of you.
Are YOU ready to shift the marriage paradigm in your favor with your own Five-Year Marriage®?
Get started by joining the Five-Year Marriage® community where you will be the first to find out about upcoming facebook live, seminars, workshops, retreats and more. Click here: Yes, I want to shift the marriage paradigm in my favor!
#FiveYearMarriage, #MarriageTips. #LoveAndMarriage, #PartnershipMarriage, #ModernMarriage #WomensEmpowerment, #MarriageContract, #RelationshipAdvice, #AnnmarieKelly, #ContractMarriage,