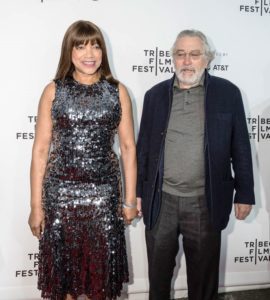 Robert De Niro and Grace Hightower recently made headlines – and not for a happy reason. The famed actor filed for a divorce from his long-time spouse after 20 years of marriage. This is the second time DeNiro has filed for divorce. The first time was about ten years ago. The divorce was never finalized because DeNiro and Hightower resolved their differences. They recommitted in a lavish, celebrity-filled ceremony.
So what happened this time?
Reports are surfacing about the reasons. They include Hightower's lavish spending habits as well as stress over raising their autistic child, one of DeNiro's two children with Hightower. According to Radar Online, the celebrity insider who confirmed the breakup to Page Six, and also said, "she was blindsided. As of a few weeks ago, everything seemed fine."
Blindsided?? How could that be? A divorce, like a marriage, involves two people. How does a marriage die – but only one person writes the obituary? A one-sided divorce is something of a puzzle.
Clearly DeNiro and Hightower weren't connecting in a meaningful way. If there were problems, the two weren't sitting down to discuss them. Or, if they discussed their problems, they weren't finding a way to effectively identify and resolve the difficulty. As every long-time married couple knows, partner communication in marriage is more important than sex. Without it, the marriage partners experience a disconnect accompanied by loneliness, anger and/or resentment.
Two Ways the Five-Year Marriage® Shifts the Marriage Paradigm in Your Fav

or

The Five-Year Marriage® recognizes the communication cornerstone…and human nature. Here's how:
Time-Limits. It's human nature to put things off until you have to do it. Most people are motivated by deadlines. The Five-Year Marriage® has the built-in end date of five years. Partners cannot lull themselves into thinking they unlimited time ('til death) to fix a problem. They have five years. It creates an incentive for communication, as well as a method for action and accountability.
Structured Support. Five-Year couples develop the habit of doing a team temperature check. They do it during their Family Meetings, where they use a format to evaluate their relationship.
How to Have a Family Meeting That Works
Set a definite time and place
Start the meeting with a "high five" list of what's going right
Next, identify what isn't going well, and talk about how it isn't and how that's a problem – without blame or finger-pointing
Then figure out how to solve the problem; figure out how to get help if you need it (counselor, mediator, books, etc.)
Finally make a commitment for who's going to do what in the resolution process. For example, if someone is overspending, create a budget. Maybe there already is a budget but it's not being honored. Then make an agreement that both of you have to agree on anything for which your joint money is being used over a specific dollar amount.
Follow-up on your progress at the next Family Meeting.
If the problem isn't being resolved, go for mediation or counseling – before resentment builds up and turns to hate or apathy. And before one partner feels so disconnected to the relationship that s/he files for divorce and blindsides the other.
WHAT'S YOUR TAKE? Thinking about couples you know, how would a Family Meeting help their communication?
To learn more about the Five-Year Marriage®, join the Five-Year Marriage community. When you do, you will get a download link for my article on "The Four Traits in a Partner to Avoid at All Costs."
Ready? Here's what to do now:
Get my Five-Year Marriage® started! Sign-up and receive "The 4 Traits to AVOID AT ALL COSTS in a partner"! (PDF) Plus, be the first to know what's new with the Five Year Marriage®
#FiveYearMarriage, #MarriageTips. #LoveAndMarriage, #PartnershipMarriage, #ModernMarriage #WomensEmpowerment, #MarriageContract, #RelationshipAdvice, #AnnmarieKelly, #ContractMarriage