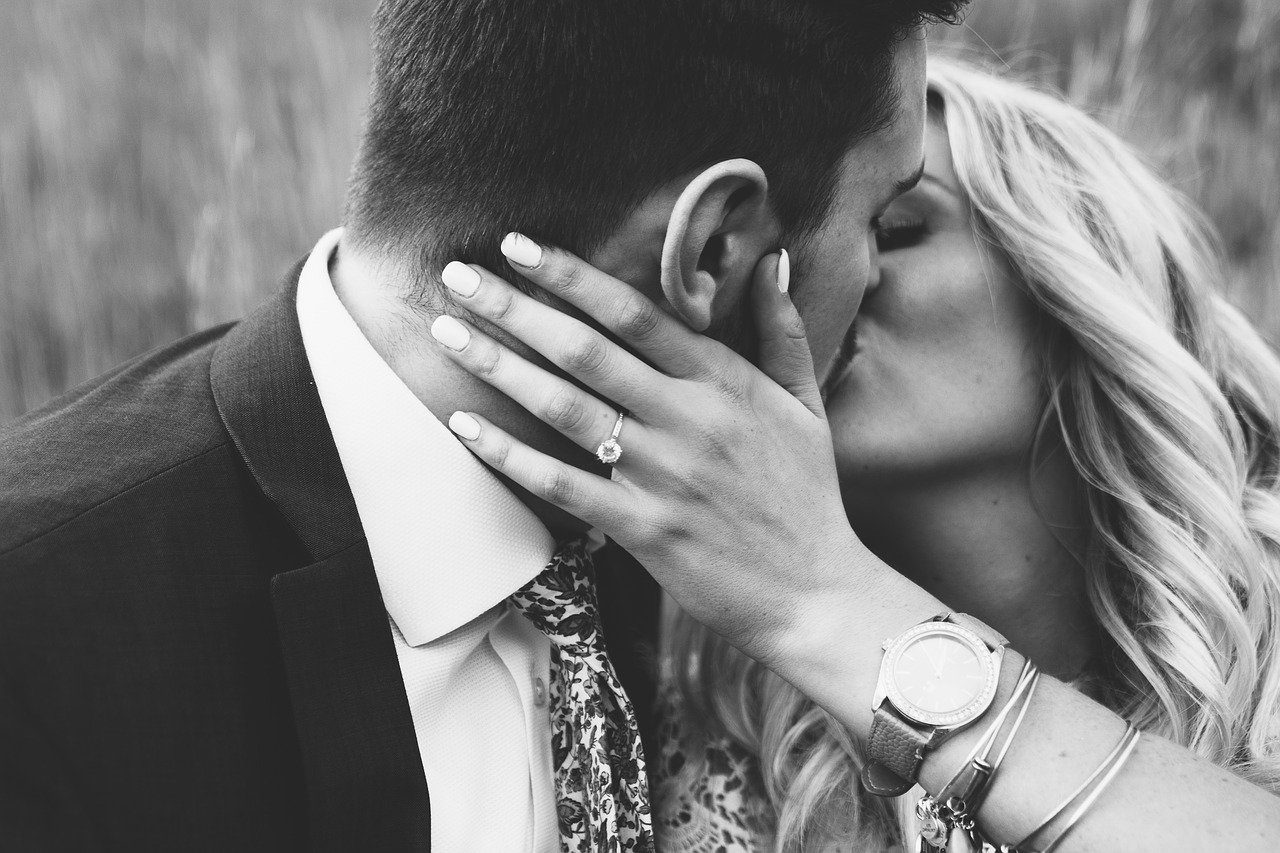 Ignite the Spark with the
31-Day Romance Challenge!
Are you missing the PASSION and INTIMACY your relationship used to have? Want to get them back?
It's true, the pheromones might have subsided, but you can tickle that love-scent back into action and get those passion fires sparking again!
Yes! You really can do it!
It doesn't take some odd cologne or a new sex toy – though you might want those later… BUT before you bring those into your bedroom, FIRST bring back the romance and the feelings that go with it.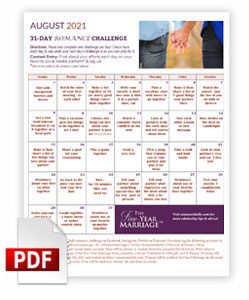 I designed the 31-Day Romance Month Challenge especially for August's Romance Awareness Month to help YOU to get a little sparkle and a lot of fire back into YOUR relationship, quickly and easily! It's full of fast & thoughtful gestures of love and simple activities – one small step each day – that you can do for, or with, your sweetie!
The romance is in remembering the little things you said, thought, and felt when you first started dating that helped you fall in love in the first place. The "challenge" is dedicating 15-20 minutes each day to focus on your relationship.
Do the Romance Challenges & Get Entered into a Prize Drawing!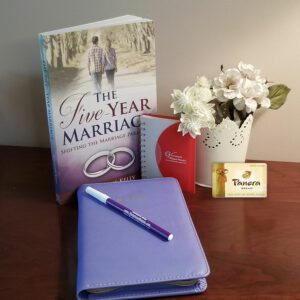 Because I know you want that "in love" feeling again but also know how hard it is to fit even small efforts into your already busy schedule, I'm sweetening the deal with a little motivation!
During August, each time you post something about your romance challenge efforts on social media (Facebook, Instagram, Twitter, or Pinterest) and tag my account (so I can give you credit!) you'll be entered into a drawing for The Fabulous Five-Year Marriage® Gift Pack: a personally autographed copy of The Five-Year Marriage® (so you can keep the good feelings going), a beautiful journal (to keep track of your romance), a pocket notebook (for those little love-reminders), a pen to record them with, and a $30 gift card to Panera (where you and your sweetie can go for some quiet talk). It's everything you need to get busy leveling up your relationship romance!
A lot of couples struggled over the last year+ in lockdown together. Even the most healthy relationships felt a strain at times. Now that the world has begun to open up and started returning to 'normal', we have a great opportunity to be intentional about what our 'normal' looks like. One of the things couples ask me about is how to spark up a little more romance in their relationships. Right now is the perfect time to make a conscious decision to make space for romance – and it's easier than you think with the 31-Day Romance Challenge!!
WAIT! Do You Feel Like Romance isn't in the Cards for your Relationship Right Now? THEN YOU NEED TO READ THIS:
There are a lot of reasons why relationships wither or fail altogether, and it all starts with CHANGE. It could be a career change, family health issues, financial difficulties, unemployment or simply feeling like you've changed but your partner hasn't, that your partner just doesn't 'get you' anymore. It could be any of the million different struggles couples face these days and there's almost never anything you can do to prevent change. And that's just it – you don't need to fight change itself anyways.
The way back starts with a CHANGE – and the 31-Day Romance Challenge could be just the thing to get you two back on the same page. It may not solve the problems, but it could be just what you need to remind you why you want to solve them.
And, Once You're "There", Consider a "Reset" with the Five-Year Marriage®
The good news is that you and your partner CAN LEARN how to solve problems and adjust to life's changes together! I explain, step by step, how to do exactly that in my book The Five-Year Marriage® – grab a copy from Amazon to learn how, or if you prefer a more guided approach, I'm offering the Beginners Guide to Your Brilliant Bad-Ass Marriage in the fall. You can also check out the 30-Day Relationship Reset Class that is currently live on Thinkific.
Positive Change Starts with a Single Step in the Right Direction
Check out the 31-Day Romance Challenge. Download it now and have a look through the various fun tasks and gestures you can do RIGHT now to take a step in a positive direction with your relationship.
You're not Stuck, You CAN Make a Change!
I wholeheartedly believe that, and it's my life's passion to help you along your journey to Victory!