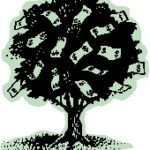 One change most people say that want to make is to make more money. That always makes me laugh – even when I say it myself.
First of all, what does "more" mean? When someone is my Optimal Living Success Workshop or a coaching session says she wants,  more money, I tell them I'll give them a dollar – and then they'll have "more" money. Obviously, that's not the kind of money they were thinking about, but I make my point.
But a real change about money is very different from the "more" kind. It has to do with the story you tell yourself about money and how you feel about money.
One woman I know is forever struggling financially. She's smart and competent, but can never seem to make ends meet. When we first met about her future, her money issues surfaced almost immediately. It was in the form of anger that her mother was withholding money from her – money she believed was part of an inheritance trust. I don't know if that was accurate or not, but what I do know is that she would never earn more than "just barely enough to get by" as long as she maintained an unhealthy attachment to that financial entitlement. Yet she wouldn't let it go…and resented being told a truth she didn't want to own. So she continues to find herself in financial straits.
Another woman is in a similar situation as the result of divorce. When she left very long but abusive marriage, she had few work skills. She found a low level job and lived meagerly. When the company offered to train her so she could be promoted, she was angry. She didn't want to work there, or learn new skills. She wanted her estranged spouse to settle the divorce; he refused, seemingly to punish her for leaving. Yet, though she deserved better than what she was getting, when I suggested that she reframe her situation, she just couldn't let go of the ties that were binding her.
In both cases, the women found themselves dependent on their own debilitating money stories. Other kinds of money stories might be centered in being taken care of, not being able to take care of yourself on your own,or  jealousy/resentment toward those who have more than you and dumb adages like, "money goes to money" or "money doesn't grow on trees."
Limiting beliefs create limiting finances. But those limiting beliefs can be changed. Charles Filmore wrote a wonderful book called "Prosperity" and you won't go wrong if you read Catherine Ponder's books. Each of these has a spiritual base, not are not religious.
Ask yourself how you think about money:
I believe money is…
My greatest problem with money right now is…
If I had a lot of money, others would…
My parents always said that money is…
Here are a few affirmations that, when you say them regularly (by that I mean 20-30x/day) they will gradually change the way you think and feel about money – and that will make a difference in how money comes to you. Pick one or two that you like, and have at it!
I have enough money for all my needs and plenty more to spare and share
I have enough money to take care of everything I need, be generous and do great things
Money comes to me and I appreciate its presence in my life
I am a good steward of my money and the better I am with it, the more I have of it