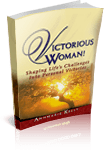 This book has been described by some women as a cross between inspirational and self-help and by others as a "blueprint for life".

10 Inspiring Stories of real women overcoming adversity

First, there are the stories of women – probably just like you – who got into and out of difficult circumstances. Maureen was abandoned by her spouse and left with five small children, no job and no money. Patti was diagnosed with multiple cancers – all at the same time.

Stepping Stones Explained

An explanation of various lifestyles that either support or sabotage your victory. Once you understand which stepping stone YOUR on, you'll be ready to transform YOUR life!

Learn the Six Critical Skills

These skills are essential for every woman who wants to live her best life. And once you've learned the skills, you'll learn about the Victorious Woman Model.
Learn More
Watch the book trailer (left)
Read reviews on
Goodreads.com or at Amazon.com
Review from "The Book Worm" Blog
Review from DA Bale Publishing