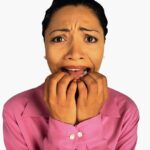 Public speaking is the Number One fear for many people. But in this day and age, in spite of all the benefits of social media, how you present yourself in person can make or break your career. Whether it's during a job interview, a department meeting or a presentation to your whole company or your board of directors, when it's your time to speak up, do you get butterflies so bad that you feel like you could die?
Afraid of Public Speaking?
I know how you feel. It used to be that way for me too. Sometimes it still is.
That's why I was so touched last week after the Women's Expo at the Edgmont Country Club. I was one of the lunchtime keynote speakers, along with Jen Frederick from Fox 29 (she was fabulous!). Afterward I was tickled by the feedback of so many women who thanked me for the inspiration they got from my message. But it's another woman who been sticking in my mind since then.
Is Public Speaking a "Gift"?
The lovely thirty-something woman told me how much she admired people who could speak in front of a group. She considered that ability a "gift" – one she didn't get but wishes she had. I laughed and confessed that there was a day when I couldn't speak in front of more than two people without shaking. She didn't believe it, but I know it's truer than I like to admit.
Public Speaking is a Learned Skill
For me, speaking in public has been a learned skill. I assured her that if I can learn to speak in public, she could too – and so can you. Here's what you need to know:
For starters, when putting your talk together, go to your local library and get one of the many great books about speech organization. It should tell you to start with a message or main idea. Next, develop an outline around three main points that support that message/idea, including references and examples, and have a clear beginning, middle and end. Those are the mechanics – all good and important for preparing a good presentation.
Next,  you get down to the nitty gritty – the "other stuff" that every "I would rather die than speak in public" presenter MUST get a handle on:
You may never get over the fear. In fact, you may not want to get over it. Sound strange? It isn't. The fear that bubbles up inside you is the same energy that makes a talk good. So don't fear the fear (because that will only make you more nervous). Instead, see fear for what it is – misplaced energy. When you see it that way, you are more likely to put your energy in its right place and use it to your advantage. Making that mental shift is one of the tricks to getting those butterflies to fly in formation.
Don't wing it. You've been to meetings, celebrations and events where someone gets in front of a group and then rambles on aimlessly, sometimes even thinking s/he is funny. Very few people can do that well – so don't do it. Instead, make an outline and script it out – even if it's just a short presentation for a weekly business meeting.
Practice. I hate practicing. But, after the fact, I've never regretted the time or energy I used to do it. If you're the same way, when you're trying to talk yourself out of practicing, remember that it's better to be over-practiced than wish you had been. To lessen the stress and boredom, break your talk into sections and practice each one and then, piece-by-piece, put it all together.
Know your opening – cold! Something I notice, for myself and many others, is that the beginning of a talk is often the shakiest part. So, if you're one of those people, the beginning 3-5 minutes is the part you want to practice more than anything else. And practice it everyplace: walking, shopping, driving, anyplace that requires you to split your attention between the activity and your talk. If you can give the first few minutes of your opening while distracted by another activity, then you'll be able to give it even when you feel like your nerves are in control. By the time you finish your opening, that nervous flurry will subside; then you'll relax and easily finish the rest.
Focus on them not you. I learned this from my spouse. He's a massage therapist who sometimes teaches classes. He seldom gets nervous. I joke that he's just a ham who loves attention.
Focus on The Benefit You're Giving Your Audience
However, one day when he was prepping for a seminar, I asked him, "What do you think about before you speak?" He said something that amazed me, "I focus on the fact that I'm telling them something they probably don't know and, once they know it, it will help them have a better life. That makes me excited, and I center my thoughts on that excitement." I laughed and thought, "What a concept!" In my head, while I knew I was giving my audience new information that would improve their lives, I focused on whether they would like it/accept it/like me, etc. I never thought about getting excited for them. That was big for me, and I hope it is for you too.
Focus on Helping, Not Being Judged
Next time you speak, instead of worrying about what "they" are thinking, focus your mind on how you are helping them and how much they will appreciate your help. Try it – it can change things dramatically for you!
Finally, get out and speak. The best way to get over the fear of speaking in public is to do it. One of the best places to practice speaking in a safe and supportive place is Toastmasters. Find a local club and join – you won't regret it!