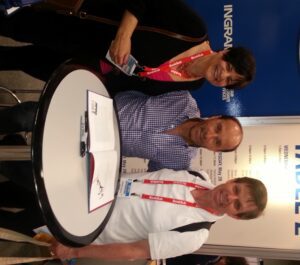 Book Expo America is quite an experience for almost everyone. Whether you're an author or press (like me), a vendor, an attendee, or a publisher, it's something you don't forget. Most of the time, at least for me and probably for most people, it's work.
However, sometimes it's an opportunity to meet a personal hero. That's what happened for Joseph when we met singer and author Lee Greenwood, one of Joseph's singer-heroes. He was at Book Expo to sign his new children's book, Proud to Be an American. It's the same title as the song for which Lee is best known in the US. You know it…it's played at parades, ball games and all types of patriotic venues.
I first knew Lee Greenwood's music through Joseph. It wasn't God Bless the USA, it was Wind Beneath My Wings. Lee sang it before Bette Midler made it a hit through the movie Beaches. For her it was a huge hit in the US. Greenwood made it a hit in the UK. Until I met Joseph, I'd never even heard the song. And when Joseph sang it, at community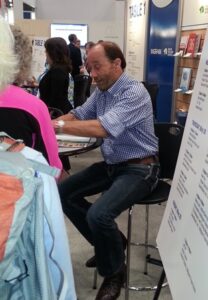 events and even in the bars, it was Greenwood's version.
So Joseph was super excited to meet Lee and told about his own history with Lee's version of the song. In return, the very charming Lee shared his personal history with the song, including that he sang a blues version of it with Gladys Night (who, believe it not, also recorded the song). Take a
look at his picture. Does he look like a 72-year-old man?
Lee Greenwood was a treat to meet!!!