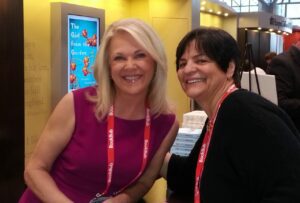 If you've never read any of Lis Wiehl's books, you're missing something. Lis is an attorney, author, professor, and news analyst. You can see her on the O'Reilly Factor, Imus in the Morning, Neil Cavuto and other Fox News and Fox Business shows and listen to her on the radio on Legal Lis.
But if you want to get to the guts of Lis Wiehl, read one of her books. She's written fiction and non-fiction. Her mysteries seem to be wriiten in a series, and she has several. My favorites are her Mia Quinn mysteries.
When I met her this time, about her new book, The Newsmakers, we got to chat for a few minutes about Mia Quinn. Mia became a single mother with the unexpected death of her spouse. After the funeral, she found out that there were many, many secrets he was keeping. Suddenly, instead of living on the insurance money she thought there was, and taking care of her kids with it, Mia's rude awakening meant she was in a lot of debt and would have to go back to work to support her children and herself.
She didn't set out to find dead people, but it's part of her new deal.
As much as I've enjoyed reading her books, I think I enjoy talking with Lis even more. We talked about Mia and how challenging her life is – much like many single mothers. Lis is smart, sweet and savvy with a very down-to-earth attitude. I'm looking forward to diving into her newest book, The Newsmakers. It's another mystery. Could it be the first in a new series?
Have you read any of Lis Wiehl's books?