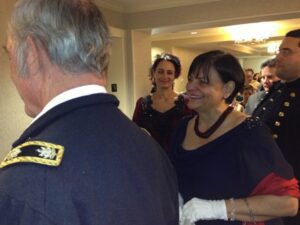 Writer's Block – the curse of anyone who writes anything anytime. And I got it. I really thought that, since I wrote the first draft of Five-Year Marriage™ a long time ago, this would be easy. Well, writing isn't easy – good writing, that is. But I didn't think it would be this hard!
Last week I realized that there have been a lot of distractions. Between enjoying Thanksgiving with my cousins and celebrating Christmas – with all the social events that go with it, I had to many distractions. I simply haven't been concentrating.
So, this week, I took myself to Gettysburg. It's a beautiful place, peaceful with all the souls who died during this famous battle and are buried here. I like coming here – usually during the spring or fall. Though one year I was here in January for the Civil War Winter Ball – which was so much fun!
Not this time! I've sequestered myself in this room and asked that no one come in to clean. That's because I have papers all over the 2nd bed, the dresser and the desk. I don't want anyone disturbing anything. I've been going downstairs for breakfast and, in mid-afternoon, I drive around the almost-deserted battlefield. Last night I walked down the road where there are outlet stores. I thought I get some good after-Christmas deals. But I found nothing.
This morning I met a sweet woman who was traveling from New York to Florida. She was celebrating her 50th anniversary with her spouse. Their road trip was designed to take them to all the places that they kept saying they wanted to go…but never did. Gettysburg was one of them.
I feel I'm making progress. But I'm anxious to go home. And I don't have anything to wear for New Year's Eve – the first opening night of the Knauer Performing Arts Center in West Chester. I hope I get through this dopey writer's block before I leave.