In honor of Women's History Month, The Press Club PA focused its meeting on women, past and present, who had demonstrated victories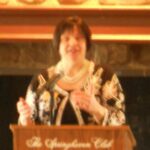 I was honored to have The Victorious Woman Project acknowledged by President Barbara Zippi. During the luncheon at the Springhaven Country Club, I presented Victorious Woman honors to Maureen Ingelsby and Janet Cantwell Papale.
Maureen Ingelsby's story is a chapter in Victorious Woman. Maureen was the stay-at-home mom of five children, ages 1-8, when her spouse packed his bag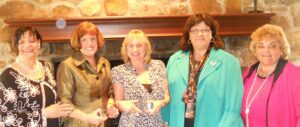 s and left "to go find himself." Her story is about how, as a single mom, she kept her kids together and raised them to be healthy and happy adults. Janet Cantwell Papale had medical problems that should have prevented her from realizing her dreams to become a gymnast – but didn't. Both women's persistence and determination is the stuff of victory, Victorious Woman-style! Here I am next to Maureen, Janet, Press Club VP Peg DeGrassa and President Barbara Zippi.
Also honored at the meeting were the past recipients of the Athena Awards, one of the highest awards presented to women, presented over the years by the Delaware County Chamber of Commerce. Each of these amazing women has a Victorious Woman story all her own: Linda Durant, Alice W. Strine,
Esq., Barbara Denczi, Marianne Grace, Joan K. Richards, Jayne Garrison, Cecile Charlton, Cheryl Cunningham, Ellen Fisher, Barbara Zippi.
Thanks to The Press Club PA for inviting us and for such a great celebration of women!