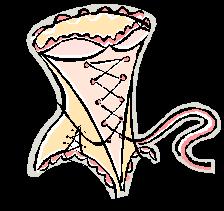 Spanx for Your Life
Who doesn't wear Spanx or some other kind of shapewear? We all like a little something once in a while to make the lines of that dress fall a little more smoothly or to tuck in that tummy. Spanx and items like it are called foundation garments because they are what goes on before anything else so that everything else looks good.
But what happens when you get the wrong shapewear? What happens if you wear a strapless bra under a T-shirt or bikinis under a fitted dress? You know what happens – the outside just doesn't look right! We all know a good foundation is critical to a good, pulled-together look.
But have you ever not paid attention to the foundation or forgot to wash the right thing and had to spend the whole day pulling something up or something else down. It was annoying wasn't it? And it distracted you from the event and scratched away at your confidence – and you probably regretted it.
That's why values are so important. Values are to your life what Spanx are to your body. Values shape your life choices as well as every decision and behavior.
If you aren't clear about what you value, it's like getting the wrong garment – something is just not right. For example, you might have "good health" as a top five value. That means you put a high priority on your food choices, make a point to include exercise in your daily life and have other health-serving behaviors. But if you say "good health" is a top value, but you don't take care of yourself, it's like wearing a sports bra under an evening gown – they just don't go together…and it shows.
Getting clear about your values has to happen first so that everything else fits right. If you aren't clear about values, take some time this month to do figure them out. When you understand your values, you can better understand and cope with the many situations that influence behaviors at home, at work, with your family and friends…and every aspect of your life.
The Victorious Woman Project has a "Values Tracker" that can help you get started: Values Tracker