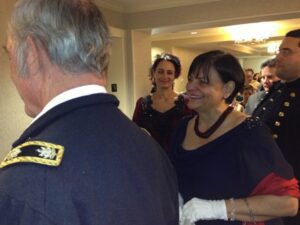 This weekend I stepped back in time at the annual Civil War Winter Ball. What a fun experience!!
On Saturday morning, Joseph and I drove to the Gettysburg Hotel for the two-hour dance class. We didn't know what to expect when we got there. We relaxed a little when we saw the ballroom filled with casually dressed men and women, mostly in the 35-55 age range. There were even a few children and teenagers, some with their parents and others with special interest groups.
As the morning took shape, we found out that people came from near and far to learn or brush up on the dances we would be doing in the evening – like the Virginia Reel and the Coquette. And, since everyone was making a lot of mistakes, we got friendly fast and had a lot of a laughs. I was surprised by how aerobic the lesson was. I expected a lot of curtseys and genteel bows but instead there were a lot of pretty vigorous do-si-dos and sashays. It was a surprising workout!
While I was glad to learn the dances, I was more grateful to find out that white gloves were the absolute "must have" for the evening. Both men and women wore white gloves and not for hygiene reasons (what I originally thought) but to prevent ones natural oils from damaging a dance partner's clothing. Back in Civil War times, dancing without gloves was considered a serious breach of etiquette.
So as soon as class was over, we headed straight for a local costumer. Fortunately we quickly found the all-important accessory. Once we had our gloves in hand, and even though we didn't have period costumes, we felt ready for the ball!
Stepping back in time
When we arrived back at the hotel on Saturday night, it really was like stepping back in time. Men were dressed in either blue or gray officer uniforms or in the 1860's version of a tuxedo; they looked very dashing. Even more elegant were the women's hoop-skirted, low neckline ball gowns. One was more beautiful than the next. Short haircuts were fashioned into the center-parted foundation for snood-wrapped hairpieces and braids. Jewelry was minimal – maybe a ribbon around the neck fastened with a pretty brooch. The costumes were wonderful!
After some chitchat with other guests, we made our way to the grand ballroom for dinner. We were joined by an interesting couple portraying Lt. Col. and Mrs. Horace Potter. During dinner, the life-long Californians explained how they gradually decided Gettysburg was the perfect place for their immediate post-working years. Their story was fascinating! They were wonderful dinner partners and so enthusiastic that, for a just second, Joseph and I thought about moving to Gettysburg.
After dinner, everyone left the ballroom so it could be readied for the dance. In the anteroom, Joseph and I chatted with those who are serious history buffs, and some who are active participants in living history events in and around Gettysburg and still others who, like Joseph and me, were looking for something fun and different. Not only were people nice, but the regulars seemed to go out of their way to make sure everyone felt welcome. We didn't meet a single person who was stuffy or standoffish. Not one person made us feel out of place for not dressing the part.
Before long, we were lining up to do the opening ceremonial dance, the Grand March. Finally the three-piece combo, Smash the Windows, began playing. Dance master and mistress Briant and Karin Bohleke led everyone in the dance. That might have been my favorite dance of the night. While it is mostly walking around the ballroom in different configurations, its purpose was to show off the women's gowns. At the same time, we all got a chance to greet and acknowledge each other. It was a "grand" start to the evening.
Dancing the night away
Except for a couple waltz numbers, most of the dances were done in lines, usually in groups of 10-12, men on one side and women on the other. Somehow, after brief breaks, the groups reformed with different people. So, by mixing it up, each of us got to dance with almost everyone in the room. The evening was fast-paced and fun-filled. I was disappointed when the last waltz was played. It was a charming way to end the evening.
Had it not been so cold, we might have gone across the street for a drink. But, because we didn't, we ran into another couple from the dance. They were also staying around the corner at the Brafferton Inn. We'd danced with them from time to time during the ball but at the inn we got talking. They invited us back to their room for a glass of wine and by the time we left, we'd made a plan to have breakfast together in the morning. We really felt a lot of synergy with them. We exchanged contact information and made a plan to meet again at next year's ball.
If I had to pick one downside, it was one of my own doing. It didn't take me but one dance to figure out that the dances of that era weren't made for the high heels of this one. I quickly found out that almost all the ball-gowned ladies were wearing ballerina-style flats under their hoop skirts!
Still, while the footwear of the day was more conducive to the dance, the clothing wasn't. Zippers hadn't been invented yet, so gowns had to be laced up by hand. During that era, women had servants dress them. In 2013, each woman I talked to was "dressed" by her spouse – and I quickly learned that getting dressed for the ball was not only time-consuming, it was an exercise in patience for both spouses…and great fodder for some funny stories! And, ladies, if you think Spanx has its challenges, you'd be amazed by the corsets and multiple layers of undergarments our foremothers, and the modern day role players, had to manage.
Corsets and split drawers not withstanding…
Corsets and split drawers not withstanding, I think I'm hooked! I'm already trying to figure out how a gown could be made so that has the authentic lacing without the hassle…could that be possible?? And I've decided I wouldn't need to be so authentic as to wear the split drawers…or the corset…OK, maybe the corset because it helps lighten up the effects of gravity.
Last month I didn't know this event exist, but I'm so glad I found it. I can't wait to do it again.
The Civil War Winter Ball is sponsored by the Inns of Gettysburg and is designed to boost winter tourism. We stayed at one of the inns, the Brafferton. I'm not much for B&Bs and usually prefer to stay where I get travel points. But the owners at Brafferton really know how to do it right. We were warmly welcomed, well-served during out stay and felt very comfortable. I wouldn't hesitate to stay there again (and that's a big deal coming from me!). If you like to dance (even if you aren't good at it), enjoy history and like to meet fun people, you'll like the Civil War Winter Ball. And, if you go, you're likely to meet me in my new hoop-skirted ball gown!
BTW: Don't miss the freaky picture of the headless dancer on FB. Joseph took the pic with his i-phone and we can't explain how it happened!