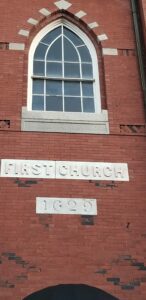 Joseph and I left home around 7:45. We made a stop at the post office to pay bills and then to Wawa for a breakfast sandwich and drinks – and we were on our way to Salem Massachusetts for a one-night stay. Aside from two huge traffic jams, the ride was happily uneventful.
We arrived at The Salem Inn around 4:30. We quickly got our key and headed to the breakfast room for the Inn's wine and cheese happy hour. In the original house, the was a basement. The innkeepers, who bought the property in 1983, did a fabulous job turning this space into a charming common area.  Equally charming was their daughter, Jill, who was pouring the wine.
Jill's been at the Inn most of her life. In fact, this savvy mother of two teens said one of her first jobs was cleaning rooms (a job her teenage daughter is doing now).  She just got back from California where she was visiting a friend while her daughter tried her skills  in an acting class.
We asked Jill about places to eat and things to do – her personal recommendations. She gave us the names of a few places to have dinner. She also suggested a tour, Bewitched After Dark, with a guy named Jeff.  Then she asked what room we were staying in at the Inn.
"I don't know, it's either seven or seventeen, I answered, explaining, "We haven't gone to the room yet – we came down here for a some wine first."
"Well," Jill laughed. There's no seven, so it must be seventeen," and then with a sly smile, she said, "and that's the haunted room." She thought it was some staff who actually named the ghost "Catherine," though Jill said there was no historical anything about her. 
Well  I'd read about the haunted room, located in the main house, on Trip Advisor. In fact, when I booked the room on Hotels.com, my booking wasn't even supposed to be in the main house. As posted on Hotels.com, we were supposed to be the Curwen House next door. So, I wondered, were the spirits conspiring to give Joseph and me a ghostly encounter??
By then, Jill had stayed way past the 5pm end-of-happy-hour. She filled our glasses one more time and we took them with us to the courtyard.  It was totally relaxing to sit there, enjoy our third glass of wine, and plan our night…including how to deal with Catherine!
#MaineDiaries, #AnnmarieKelly