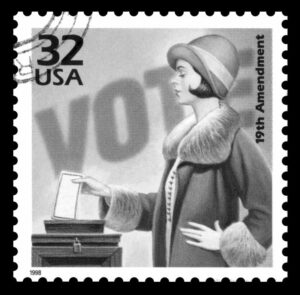 What's so good about today?

This month marks the 100th Anniversary of the 19th Amendment, guaranteeing women the right to vote. The amendment was ratified on August 18, and certified on Aug. 26, 1920. 100 years ago today.
It might not seem like so big a deal to people like us who were raised with the right to vote.
However, close your eyes for a moment and think of those women – like your great grandmothers, or even your grandmothers and great aunts. World War I had just ended and the world was living through a pandemic – with way fewer sources of information. They had to wait for the evening paper to find out anything.
For their whole lives, those women had almost no say in the decisions that impacted their lives. They grew up thinking only white men could vote – and had to watch as even the really dumb ones voted while so many smart women stayed silent.
Then the 19th Amendment was ratified and certified less than 70 days before the presidential election. It was new and exciting, and I'll bet, a little scary.
The Big First Steps for Women's Empowerment
The 19th Amendment was the beginning that changed everything for women – including you and me.
It's history now, but here's the thing: it didn't happen fast. The 19th Amendment was over 100 years in the making. While some women stirred the pot of change for years, it wasn't until 1848 that something "big" happened – the First Women's Rights Convention in Seneca Falls, New York. The movers and shakers at that convention included Elizabeth Cady Stanton, Lucretia Mott, and Susan B. Anthony.
They didn't know it would take almost another hundred years to become the 19th Amendment. Or that they themselves would never get the right to vote.
You know who else never voted?
Clara Barton, the "Angel of the Battlefield." She was instrumental in founding the American Red Cross, which is still strong and vibrant today.
Madame C.J. Walker, the first female self-made millionaire.
Elizabeth Blackwell, a British physician who became America's first female doctor.
The list goes on and on – one smart Victorious Woman after the other kept plugging away – an uphill battle. They, too, had no end date (and no phones, FB – not even washing machines or dishwashers!) They just had a bunch a question marks.
They must have been exceptional women, yes? Actually…
maybe not so much
!
In her book, Founding Mothers, the late Cokie Roberts, explains it this way: "…as I got to know these women…I came to the conclusion that there's nothing unique about them. They did – with great hardship, courage, pluck, sadness, joy, energy, and humor – what women did. They put one foot in front of the other in remarkable circumstances. They carried on."
They did it then and we are doing it now – with courage, pluck, sadness, joy, energy, and humor.
Now It's Our Turn to Create Change
We'll change the way we school our kids. Tele-work and tele-health will be commonplace. Drive-in movies will be all the rage – again. Women running our country and companies will be the norm.
And couples will look back on the old way of marriage and think "how did any marriages ever survive without regularly resetting every five years?"
100 years from now, those women will be looking back at us and thinking "WOW – they must have been something!"
THAT'S what's so good about today.
Let's celebrate it! Call your BFF and toast the women from 100 years ago. Toast our pluckiness during this pandemic. Have some fun imagining what two women 100 years from now will be saying about us.
Cheers to all of us and each of us!
With love and in victory,
Annmarie
#WomensEmpowerment, #FiveYearMarriage, # Victorious Woman Project, #LoveAndMarriage, #AnnmarieKelly
Want to be part of the next new wave of paradigm-shifiting?
Get a copy of my latest book,
The Five-Year Marriage: Shifitng the Marriage Paradigm
also available for
Kindle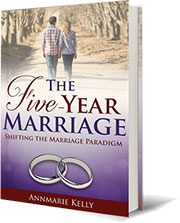 Want to read more about some modern-day Victorious Women?
Check out this inspiring book –
Victorious Woman! Shaping Today's Challenges into Personal Victories